Shop Now Starting at $10 per linear foot.
Stainless Steel Cable
All of our cables are manufactured from Marine Grade 316 Stainless Steel, providing strength, corrosion resistance, and a clear view year after year. Our cable can be ordered pre-cut according to your measurements(with fitting attached even),or uncut in bulk.
To see our cable in use,take a look through our photo gallery.
We offer 2 different cable sizes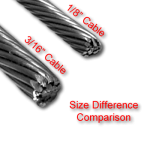 1/8" diameter – This thinner size is mainly used in residential settings, giving homeowners the clearest possible view from their decks and balconies.
3/16" diameter – This thicker size is usually chosen for commercial and some residential areas due to its superior strength and durability.
Our stainless steel cable is also available in two different construction types:
1×19 cable – 19 individual wires are twisted into one wire rope. This design has a smooth, modern appearance and is a more rigid type, making it a strong choice for straight runs with bends 45 degrees or less. We stock 2 sizes, each with it's own attributes.
7×7 cable – 7 bundles, composed of 7 individual wires each, are twisted together into one wire rope. This type looks quite like rope and is less rigid, making is an excellent choice for a railing system with lots of corners.
1/8″ diameter, 1×19 cable can withstand up to 1,890 lbs
3/16" diameter, 1×19 cable has a maximum load of 4,719 lbs.
In 7×7 cable, we stock only 3/16″ diameter, which carries a maximum load capacity of 3,303 lbs.
To ensure the highest quality performance, use our  professional swaging service or hand swage using our recommended tools. Using the wrong swage die can result in cable pull out or fitting crushing. Learn more about our swaging, tools and services.