Starting at $80 per linear foot.
Stainless Steel Square Railing Systems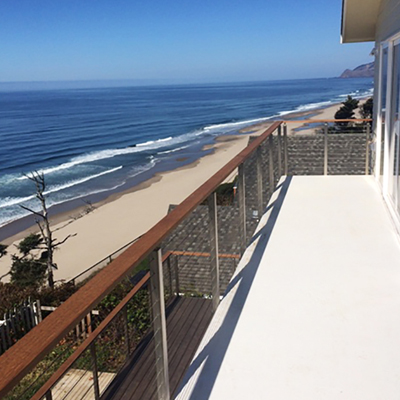 Our Square Stainless Steel Railings offer a smooth, sophisticated appeal without obstructing your view. Equally compatible with your beachfront deck or a staircase in your home, our CableView Railings are long-lasting, affordable and virtually maintenance free.
Contact us anytime for a free estimate or railing design help. We are more than happy to answer your questions and make sense of it all. Send us your plans/ideas (drawings are encouraged) via email at: [email protected], or fax to 1-888-686-7245 (RAIL). We will respond within 24 hours. Visit our support page for more tips and resources.
To begin constructing your cable railing system, first you'll need to create a frame of posts and top rails. In the following sections, we'll explain some things to consider when choosing your materials, and help you determine the components you'll need to complete your railing with our round stainless steel posts and handrails.
More Product Information
Square terminal posts don't have an internal webbing, and therefore need to be thicker than the intermediate posts (if you aren't sure what terminal and intermediate posts are, please see our FAQ). The additional thickness is what allows the terminal posts to hold the additional load requirements. Since the thicker stainless steel is harder to work with on site, we do a lot of the work for you, here in the shop before we ship them. This results in less work on your end during installation, but more is required from you prior to fabrication. This also means the time it takes to completely customize your order, is added to how long it takes to get your order to the shipper. Depending on the time of year you order, we've seen up to 8 weeks manufacturing time.
Still not sure?
Browse through our photo gallery to see installed stainless steel round railings!
Unsure if this is the right material and style for your project?Check out our aluminum and stainless steel square options.
What to do Next
Once you figure out your desired top rail and post materials, there are a few other things you'll need to sort out. Here are some of the crucial decisions you should make as soon as possible.
1. Would you like your top rail at 36", 42", or a custom height?
2. What mounting method do you want to use? Deck or fascia?
3. Do you know the number of posts you need?
4. What other products and services will you need for your project?
Are there any questions here you aren't sure how to answer? Read our How To page for more information.