Starting at $90 per linear foot.
Stainless Steel Round Railing Systems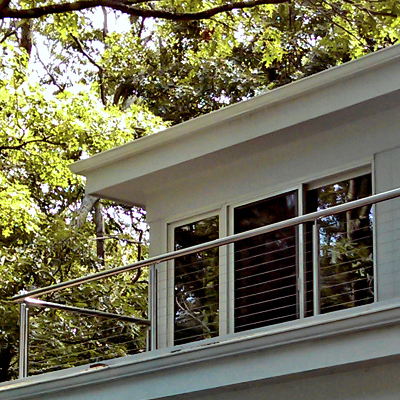 The smooth aesthetic of cylindrical steel can dress up any property. This unmistakably modern metal combines with a pipe-like design, adding a chic twist to a classic shape. Not only will it look great upon assembly, but given the durability and low maintenance of our Marine Grade Stainless Steel, it will continue to look fabulous year after year!
Our round stainless steel design is available for both your top rail and posts. The 2" diameter, rounded shape of the top rail fits perfectly in the palm of your hand, making it easy and comfortable to grasp and run your hand along.

More Product Information
Unlike square terminal posts, circular terminal posts don't need to be any thicker than the intermediate posts (if you aren't sure what terminal and intermediate posts are, please see our FAQ). This is because a round shape is naturally sturdier than square. As a result, your ordering and assembly process will be easier, since you will only be dealing with one type of post (though the terminal posts are still different in that they have larger holes for the fittings) and will only need one type of post caps, rather than two.
Since there are a lot of adjustments and preparations we need to make to stainless steel in shop, we won't be able to ship them out as soon as our aluminum products. However, the extra work we put in also makes them easier to install once you receive them.
Still not sure?
Browse through our photo gallery to see installed stainless steel round railings!
Unsure if this is the right material and style for your project?Check out our aluminum and stainless steel square options.
What to do Next
Once you figure out your desired top rail and post materials, there are a few other things you'll need to sort out. Here are some of the crucial decisions you should make as soon as possible.
1. Would you like your top rail at 36", 42", or a custom height?
2. What mounting method do you want to use? Deck or fascia?
3. Do you know the number of posts you need?
4. What other products and services will you need for your project?
Are there any questions here you aren't sure how to answer? Read our How To page for more information.