Starting at $50 per linear foot.
Cable Railing Systems Overview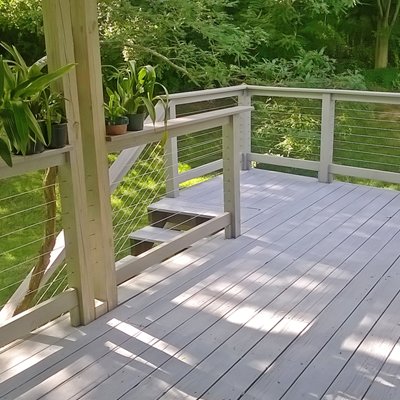 Oftentimes, aesthetics and practicality are mutually exclusive. The fancier something is, the more maintenance it generally requires. Products that are more durable or easier to take care of tend to not be particularly stylish. Thankfully, when it comes to railing systems, you don't have to choose between looks and quality. Not only is cable railing's classy, modern design appealing in and of itself, it's also incredibly durable, easy to take care of, AND doesn't obstruct your view!
Cable Railing Direct sells only "CableView" Railing systems, engineered, and manufactured by Stainless Cable & Railing Inc.

CLEAN LINES
Easy on the Eyes. Nothing classes up a property better than taunt cable with a thin, geometric frame. The crisp lines of these angular metal and wood systems provide an unmistakably modern aesthetic that updates any property. At the same time, it won't clash with your indoor or outdoor themes, thanks to the versatility of such a simple design.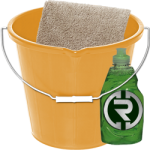 Easy to Maintain. Not only will your new railing system look amazing after installation, it will continue to look amazing over the years, with hardly any upkeep. The frame and cable only require occasional cleaning and tensioning, both of which only need to be done when noticeably necessary. To clean your rail, all you need to do is wipe it down with a wet, soapy rag. In contrast, both glass railings and traditional pickets require much more work: frequent pressure washing, staining, glass cleaning, repairing, etc. This easy maintenance is due to the durable materials and designs of our railing systems. We use materials that can withstand the elements, like Marine Grade Stainless Steel and 6063 T6 grade aluminum, and powder-coat our colors on to resist cracking, blistering, and chipping. Our aluminum posts are also built with a unique inner-webbing that reinforces their structural integrity to resist post deflection.
Easy to Install. All of our products come with step-by-step instructions to guide you through the process of assembling your railing system. Our posts arrive pre-drilled (unless you'd rather drill them yourself), and can also be pre-swaged using our professional swaging service, saving you time and effort. Our aluminum products arrive cable ready and are powder-coated in-shop, cutting down your installation time. The stainless steel products require even less installation work, thanks to the extensive preparations we make to these pieces before shipping them out.
OPEN VIEWS
Minimal Design. Unlike traditional pickets, which often have bulky frames that draw the eye, cable railing is so thin and simple that it doesn't distract from its surroundings. A cable railing system consists of a frame (made of a top rail and posts) with cable infill. The frame can be very slight, while the cables (spaced 3in apart) can be as thin as 1/8"! This allows your gaze to easily pass through to the scenery beyond. Even when the cables do catch your eye, the clean lines compliment their surroundings, rather than clashing or competing with them. Class up any residential or commercial property inside or out with a chic, modern railing that accentuates rather than obstructs.
Truly Clear. The minimal design of cable railing isn't just ideal for view-gazing after installation; it stays ideal. Whereas similarly unobstructive railing systems like glass might technically be less visible than cable infill, the transparency doesn't last, as glass easily accumulates dirt and scratches that dull your view over time, even with rigorous upkeep. Cable infill allows your view to truly be open, with no surfaces in between you and your surroundings. Enjoy your vista without any filters, as well as the breeze and other aspects of nature that glass walls block, no matter how clean they are.
Our systems are available in four different material/design options: aluminum (which comes in 5 different colors), square stainless steel, round stainless steel, and Ipe wood. Pick the same option for your posts and top rail to make a cohesive look, or mix and match to create something more unique! If you aren't interested in our post and/or top rail options, you can build your own frame and just fill it in with our cable infills.
Questions?
Look through our FAQ page
Give us a call at 1-855-820-8439
Email [email protected] Mon-Fri-8am-4:30pm (PST)