Starting at $50 per linear foot.
Aluminum Railing Systems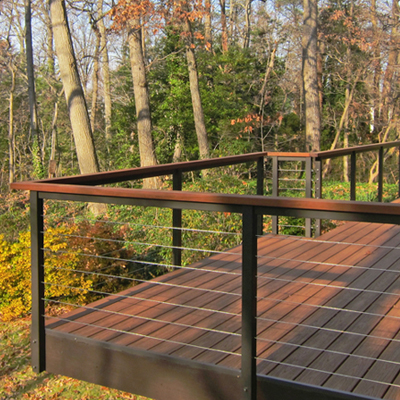 The clean lines and flawless finish of our square aluminum posts and top rails will complement any style of architecture, whether modern, traditional, or even historical. The posts are 2 3/8″ by 2 3/8″ and available in a range of lengths to accommodate any project.
Aluminum is well known for being lightweight and resisting corrosion. The material itself may not be as hardy as Marine Grade Stainless Steel, but our aluminum top rails and posts are specifically constructed to be just as structurally sound.
Our aluminum systems usually ship within the week, although during peak seasons, shipping can take longer. If you order an aluminum system you can choose from 5 colors and it will ship sooner than our other systems (oftentimes faster than our competition), due to our complete customization process of the stainless steel systems. If we design your system it comes with what is needed (except common tools) for installation, including a custom layout sheet. All systems ship with comprehensive installation instructions.

Click through our aluminum photo gallery for design inspiration from installed railings! You'll also be able to see how the different color options work with their surroundings.
Looking for Stainless?
Both of our stainless systems are cut and drilled to your specifications before leaving our facility, reducing prep time!